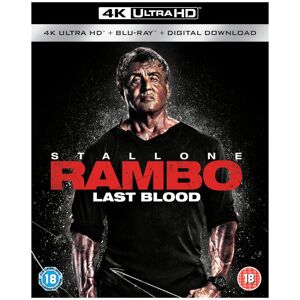 Lions Gate Home Entertainment Rambo: Last Blood - 4K Ultra HD
€24.26
- €26.48
(inc P&P)
Features and technical details
Zavvi - The Home of Pop CultureAlmost four decades after he drew first blood, Sylvester Stallone is back as one of the greatest action heroes of all time, John Rambo. Now, Rambo must confront his past and unearth his ruthless combat skills to exact revenge in a final mission. A deadly journey of vengeance,
2 of 2 results from 2 retailers
Lions Gate Home Entertainment Rambo: Last Blood - 4K Ultra HD
Offer updated on : 4/11/2021
Delivery: Standard
Offer details
Rambo: Last Blood 4K [Blu-ray] [2019]
Offer updated on : 4/6/2021
Delivery: In stock.
Offer details