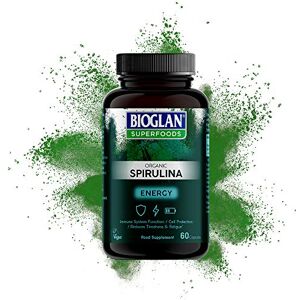 Bioglan Superfoods Organic Spirulina 800mg High in Vitamin C Immune System Function Fatigue & Tiredness - 60 Capsules
€16.07
- €17.79
(inc P&P)
Features and technical details
ENERGY BOOSTING ORGANIC SPIRULINA CAPSULES - 800mg of Organic Spirulina per serving. WITH ADDED VITAMIN C - Each serving contains 30% of your daily Vitamin C sourced from acerola cherry. Vitamin C contributes to the protection of cells from oxidative stress and the normal function of the immune system.
3 of 3 results from 3 retailers
Bioglan Superfoods Organic Spirulina 800mg High in Vitamin C Immune System Function Fatigue & Tiredness - 60 Capsules
Offer updated on : 11/23/2020
Delivery: In stock.
FREE Delivery to Republic of Ireland on orders over €25.
Offer details